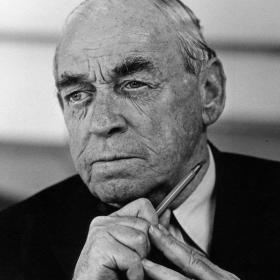 Aalto, Alvar
Alvar Aalto (†1976), one of the founders of Artek, was born in Kuortane, Finland. Alvar Aalto is recognized today as one of the great masters of modern architecture. During his long and prolific career, Aalto's work embraced almost all key public institutions - town halls, theatres, churches, libraries and universities - as well as standardized housing and private homes.

Aalto's architecture is distinctively Finnish. It is marked by a warm humanity and strong individuality. His buildings derive their special aesthetic character from their dynamic relationship with their natural surroundings, their human scale, superbly executed details, unique treatment of materials and ingenious use of lighting. Like all great art, however, Aalto's architecture transcends national boundaries. His work is not the exclusive property of Finland: it forms a part of a common cultural heritage of European and worldwide significance.

Alvar Aalto began designing furnishings as a natural and important extension of his architectural thinking. His first modern piece of furniture was created in 1931-32 for the Tuberculosis Sanatorium in Paimio, which proved to be his international breakthrough. Artek was set up in 1935 to market and sell Alvar and Aino Aalto\'s furniture, lamps and textiles, particularly on international markets where Artek focused its operations from the initial stages.

Through the innovations in form and line that were born in his furniture designs, Alvar Aalto's name has also become important in the history of design. In fact, Aalto first achieved fame in Continental Europe as a furniture designer, and only later on as an architect. His contribution to furniture design was among his foremost achievements in its own right, and it sowed the seed from which many of his architectural ideas sprang forth. Alvar Aalto's furniture and lighting pieces form the basis of the Artek range.