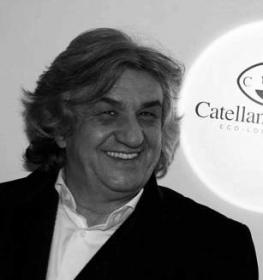 Catellani, Enzo
An expression of a poetic at the divide between the artisan, art and design, the lamps by Enzo Catellani are renowned for their unique style and ability to surprise and bring forth strong emotions. In his laboratory he forges materials to invent forms and alchemies that are brought to life with light. Enzo Catellani named his company after himself and his faithful horse Smith. Enzo Catellani combines artistic Italian flair with innovative technological solutions.

The monumental character of his lamps are very suitable in projects.

The idea of his masterpiece Fil de Fer came from the request for an enormous chandelier for the Museo della Cartografia di Stato (State Cartography Museum) - Trevi Fountain in Rome. The designer was asked to design a chandelier that was, not only very large but, at the same time, ethereal with many lights. A chandelier symbolising an universe. Enzo Catellani immediately thought of using a light and flexible material that could also become a suitable structure for holding many lights.

He experimented with the malleability of iron wire and the first shape that was created was an enormous sphere. Its appearance reminded him of the light, rolling bushes, blown by the wind in the Mexican desert. The Museum lamp was completely another thing, but this prototype remained.

Enzo Catellani was born in Zibello near Parma in 1950 and lives in Bergamo.