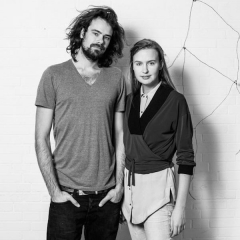 Drift, Studio
Studio Drift is an Amsterdam (NL) based studio, which creates site-specific installations and interactive sculptures that deal with space and light, by playing with existing and new relationships between nature, technology and mankind. At first glance, the works seem to refer to familiar situations, but on further investigation these references are brought into question. This places the viewer in an interesting position, reshaping how we relate to our environment and stimulating new ways of thinking.
Studio Drift uses advanced technology and fine craftsmanship. Each new work attempts to make some kind of future prediction. This entails a struggle within the limits of what is considered possible, ultimately pushing back the boundaries each time. Since research is an important part of Drift's work process, the studio frequently collaborates with scientists, university departments and research facilities, computer programmers and engineers.
Studio Drift is founded in 2007 by Lonneke Gordijn (1980 Alkmaar, NL) and Ralph Nauta (1978 Swindon, GB). Since then they have produced multi-disciplinary installations, sculptures, objects and films.
Work by Studio Drift is acquired by the Victoria & Albert Museum in London, The Rijksmuseum Amsterdam, Musuem Voorlinden. Recently, Drift's Shylight installation at the Rijksmuseum was nominated for the Dutch Design Awards 2015.
Their work has been exhibited worldwide at leading museums, fairs and institutes such as the Victoria & Albert Museum (UK), World Expo Shanghai (CN), Design Miami Basel (US, CH), Museum Boijmans van Beuningen, Rotterdam (NL), M.A.D. New York (US), The Israel Museum (IL) and La Biennale di Venezia (IT), Biennale de SĂŁo Paolo (Brazil).
Studio Drift has been awarded several times for its creations, such as '˜The Moet Hennessy - Pavilion of Art and Design London Prize' in 2010 for their Fragile Future Concrete Chandelier, and '˜The best piece of Arte Laguna' for our Flylight during the Arsenale 2014 in Venice. Also in 2014, together with a creative team, Drift has won a competition to create one of the largest interactive permanent light installations in the world on Switzerland's most important landmark; the Kapellbrücke in Lucerne.